Personnel search - combination of the best and latest methodes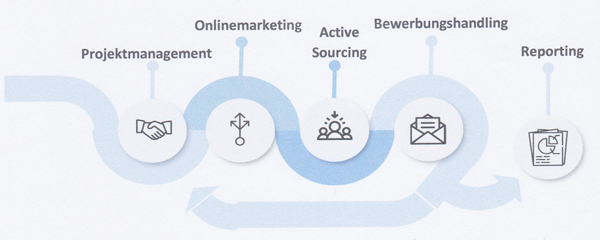 The personnel market is an applicant market. Job advertisements and job portals have to be tracked by potential candidates, therefor you only attract those people who are actively looking for a job. Companies can only use a few of the more than 1,200 german job portals and they often receive the wrong applications. Job portals are passive instruments and do not serve to identify  suitable candidates.
Most companies do not have a legally secure applicantion management system with which they can react prompty to incoming applications. Often the (pre-)selection processes take too long and many applicants  accept other job offers.
Application data  are seldom managed according to DSGVO, because this is expensive and requires automated processes and documentation.
Companies are looking for the whole spectrum of personnel, from trainees to executives.
We cover this spectrum and solve your personnel problems.
&mbB is working as a headhunter for executuves since 1998 and has a sound methodological background in recruitement procedures and job-related aptitude diagnostics.
We cooperate with HR partner FEL Human Resources GmbH. Together we offer the most modern recruitment process and ensure a cost-effective staffing of your vacancies. FEL too is in the recruitment business for over 20 years. A team of 20 people include recruiters, software developers and online marketing / social media experts.
Contacts us and learn more about our methods, AI-based personnel search and the procedures we use.